8 ft. x 16 ft. Connect-a-Deck and Entry Steps
SKU:
*DECK SYSTEMS SHIP SEPARATELY. ALLOW 14-35 DAYS FOR LUMBER DELIVERY.
Regular price
$2,999.99
Sale price
$2,699.99
Unit price
per
Sale
Out of Stock
Find Your Zone

Use the chart below to determine your zone and choose that option when adding to your cart.

ZONE 1
ZONE 2
ZONE 3

Connecticut

Delaware

Maine

Maryland

Massachusetts

New Hampshire

New Jersey

New York

Pennsylvania

Rhode Island

Vermont

Virginia

West Virginia

Alabama

Arkansas

Florida

Georgia

Illinois

Indiana

Iowa

Kentucky

Louisiana

Michigan

Minnesota

Mississippi

Missouri

North Carolina

Ohio

South Carolina

Tennessee

Texas

Wisconsin

Arizona

California

Colorado

Idaho

Kansas

Montana

Nebraska

Nevada

New Mexico

North Dakota

Oklahoma

Oregon

South Dakota

Utah

Washington

Wyoming
Click to Read Shipping Information

ACCESSORIES

Orders for smaller pool accessories such as covers, chemicals, cleaners, etc. ship via UPS Ground.  Generally, UPS Ground orders ship within 3-5 business days.  Orders are shipped out regularly Monday - Thursday.

You will receive an email with the UPS tracking number once your order has shipped.  Please allow 24 hrs. for tracking info to update.

(You may receive a signature request in your email, please disregard that.)

SWIMMING POOLS | POOL HEATERS | CONNECT-A-DECK

*IMPORTANT* - After placing your order, you will receive our Shipping Agreement via email.  You must read and sign the document before your order is finalized.  See Shipping Agreement info below.

All orders that include a Pool and/or Heater or a Connect-a-Deck MUST sign the shipping agreement before your order is processed.  Delays in signing the agreement will result in a delayed order.

Freight orders typically ship within about 5-12 business days depending on the time of year.

You will receive an email when your package ships out that will include the tracking number and carrier information. The freight carrier will call you to schedule a delivery date and time window for delivery.

Lift Gate Service is required for Swimming Pool purchases.  You will see this additional charge of $49.99 at Checkout.  Your Pool Package will arrive on a special truck with a hydraulic lift.  This will make receiving the shipment much easier for you. The driver will use the lift to place the pallet on the ground curbside.

Pool Heaters have a freight plus Lift Gate fee applied at checkout.  Please enter your address on the cart page for an accurate shipping calculation.  You can do this before purchasing.

All Pool Heaters ship for free with a pool package order.  If buying the heater without a pool package, additional shipping charges apply.

If you live in the states of WA, OR, CA, AZ or LA there is an additional shipping fee that is calculated at checkout.

 Some important considerations when purchasing a swimming pool:

Does your city/township require a permit to build a swimming pool? Please let us know at the time you order if you need us to hold your order while you complete the necessary steps your city requires.
There are some cases where the freight company cannot deliver to your residence. No freight carriers will deliver to Dirt or Gravel Roads/ Down Driveways/ Dead End Streets. If you think the freight company will have difficulty delivering to your house, let us know when you place your order. We can help make other arrangements for you to pick up your order at a terminal. Please note, you will need a truck, van or larger SUV to haul the items home.
If you decide to cancel your Pool Order after it has been shipped or refuse the package upon delivery, the pool will be returned and a 30% cancelation fee will be charged and deducted from your refund.
Receiving a freight delivery is very different than a regular package in the mail. Special care is required to ensure your package arrives complete and that any replacement items can be sent.

 

It is very important to follow the instructions in this agreement completely.

 

Failure to comply with the shipping agreement could result in you not receiving replacement parts or missing boxes at Pool Nation's expense.

When your pool arrives, inspect the packaging before signing or opening. If you notice any torn or damaged boxes, please note on the shipment receipt "visual damage" before you sign for the order. There is no action we can take with the shipping company if you do not note the damage before signing. Your signature indicates that everything arrived intact. Take a picture of the damage. The pallet will be shrink wrapped in plastic. Do not refuse the shipment unless you call us for an approval.


Open and read the Packing List that is provided with your shipment and compare it to the contents of the pallet to make sure everything arrived. If you find that there are any boxes missing you must contact Pool Nation USA within 72 hours of receiving your pool. After 72 hours your pool package is considered complete and shipped in full. No other replacement boxes will be sent at Pool Nation USA's expense.


It is the customer's responsibility to inventory the parts of the pool against the manufacturer's packing list. This needs to be done before the installation. This procedure needs to be completed even if you decide to install your pool months after taking possession. We do not want you to realize you are missing a part halfway into the installation.  Please double check that you have everything BEFORE beginning the installation.  Pool Nation USA will assist you with any missing parts for up to 90 days after receiving the pool.

If you are missing your Pool Nation USA Packing Slip - or a manufacturer's parts list in the pool boxes, please send us an email with your order number.

We want you to enjoy your pool for an exceptionally long time so please remember to replace the gaskets around the skimmer and return every two years. This will help in preventing water from getting between the liner and the pool wall, causing corrosion.

LAYAWAY ORDERS:

Please click this link to see more info about our Layaway Program.

CONNECT-A-DECK ORDERS:

Your Connect-a-Deck ships separately from a pool package. Lumber is delivered from a supplier local to you. You will not receive a tracking number for the Connect-a-Deck from Pool Nation USA.

ALL DECK ORDERS ARE FINAL.  DECKS ARE MADE TO ORDER BY THE MANUFACTURER AND CANNOT BE CANCELED ONCE ORDERED.

The supplier will inform you when the lumber is being delivered. You do not need to be home to receive this delivery.

All hardware and detailed instructions are mailed in a separate package via USPS. You should receive this within about 10 days of receiving the lumber delivery.  The plans will contain the list of lumber you should have received.

The detailed instructions/plans for building the deck are part of your purchase.  We cannot send out copies of the plans prior to you receiving them.

Please email us with any questions.  If you need help with an order already placed, please include the order number in your email.

orders@poolnationusa.com | 412-225-0827
*DECKS ARE MADE TO ORDER AND CANNOT BE CANCELED. ALL DECK ORDERS ARE FINAL.*
SELECT YOUR SHIPPING ZONE:  Choosing the incorrect zone will delay your order. Click for info
This system is compatible with any above ground swimming pool!  Any shape - any size - any height.  Manufactured from attractive treated lumber that you can paint, stain or enjoy the natural look.
Our Connect-a-Deck system is very easy to assemble with some cutting and drilling required.  This is a DIY deck (not pre-fab) that will come with all lumber, hardware and detailed instructions.  There is about 30-35% cutting and drilling required depending on your desired deck height and configuration.  A self-closing, lockable safety latch is included.
Above Ground Pool Decking is a perfect upgrade in place of an A-Frame Ladder.  It provides an easier entry and exit to and from your pool.  Our decking system comes in five standard sizes: 4' x 8',  4' x 16', 8' x 8', 8' x 12' and 8' x 16'.
A 4' x 8' Connect-a-Deck connects to your pool, not your home so it is not considered a permanent structure.  Our decking systems do not require deep post holes to be dug out or cement footings to be poured.  They rest firmly on patio blocks - sold separately. 
Connect-a-Deck systems are of superior quality.  Build of strong, proven treated lumber.  For comparison, a standard aluminum deck pool post uses 1 1/2" hollow posts - our decking systems use solid 4x4 wood posts.
This strong, treated lumber is similar to that of most house balconies and outdoor patio decks and will outlast the pool they are attached to.
Deck wood is shipped from a local lumber yard, hardware and instructions delivered in a separate package.
Includes: (1) 4' x 8' Starter Deck with Steps & (3) 4' x 8' Add on Deck
*Connect-a-Deck does not include an entry ladder for a swimming pool.
Share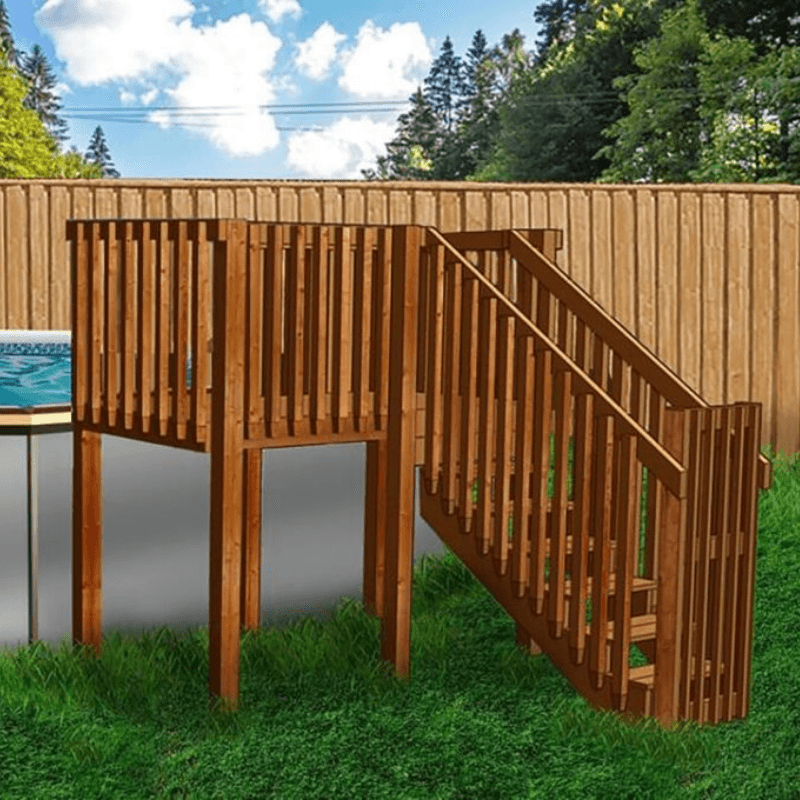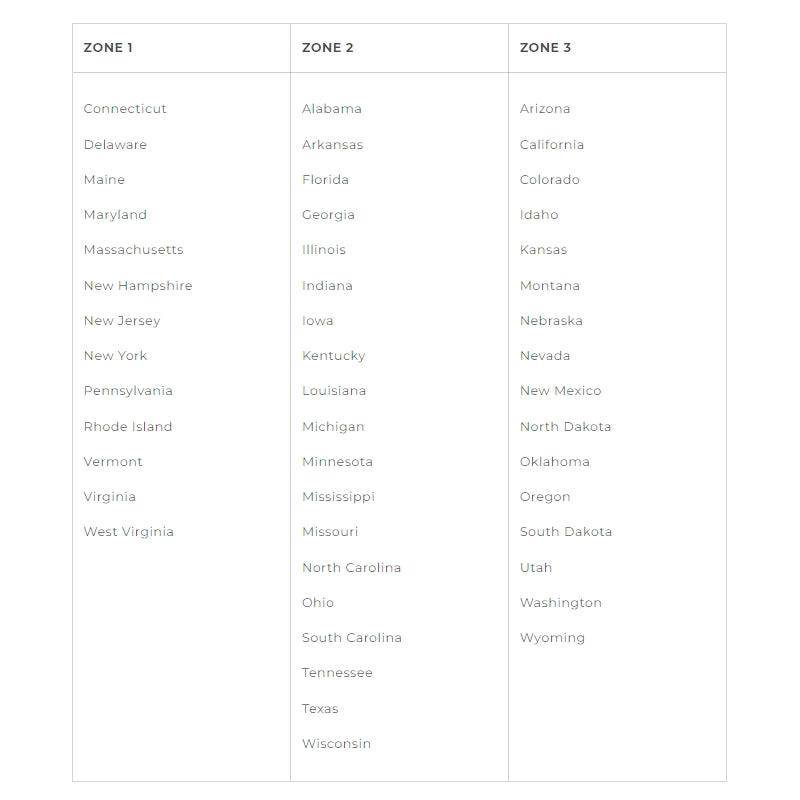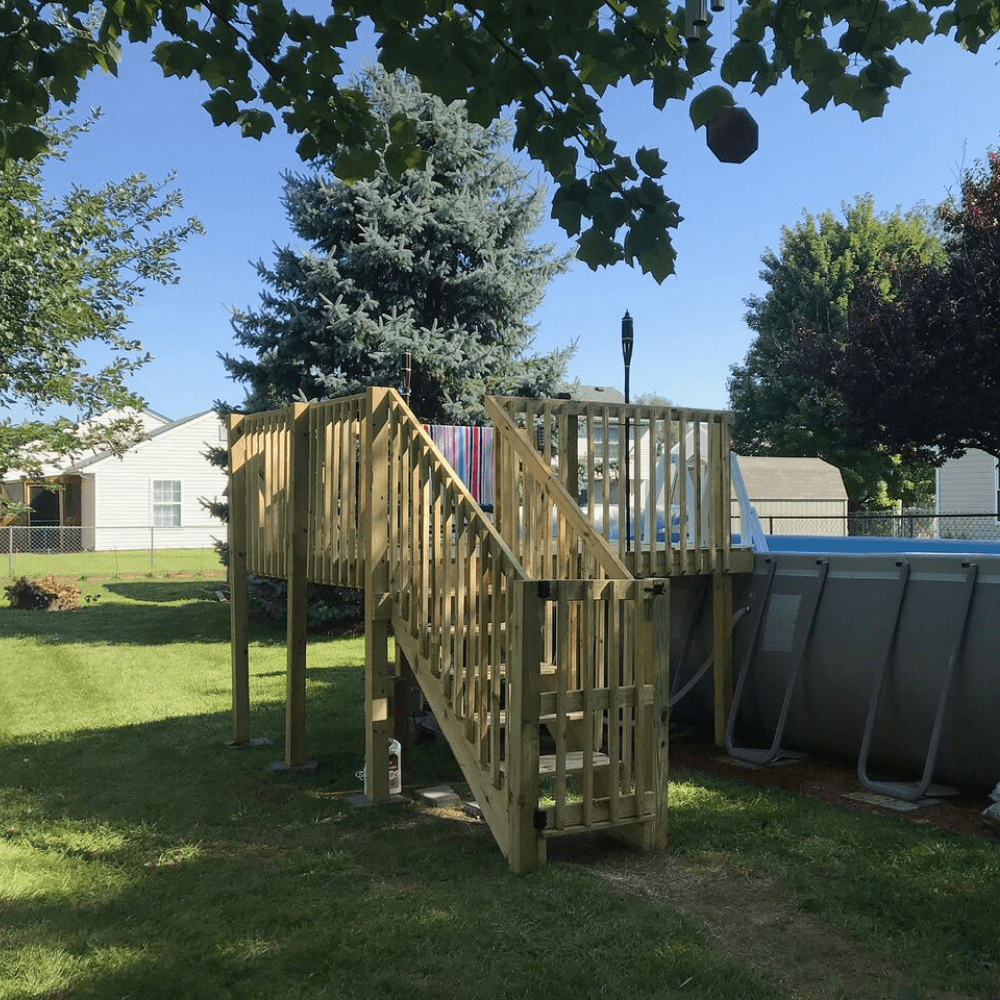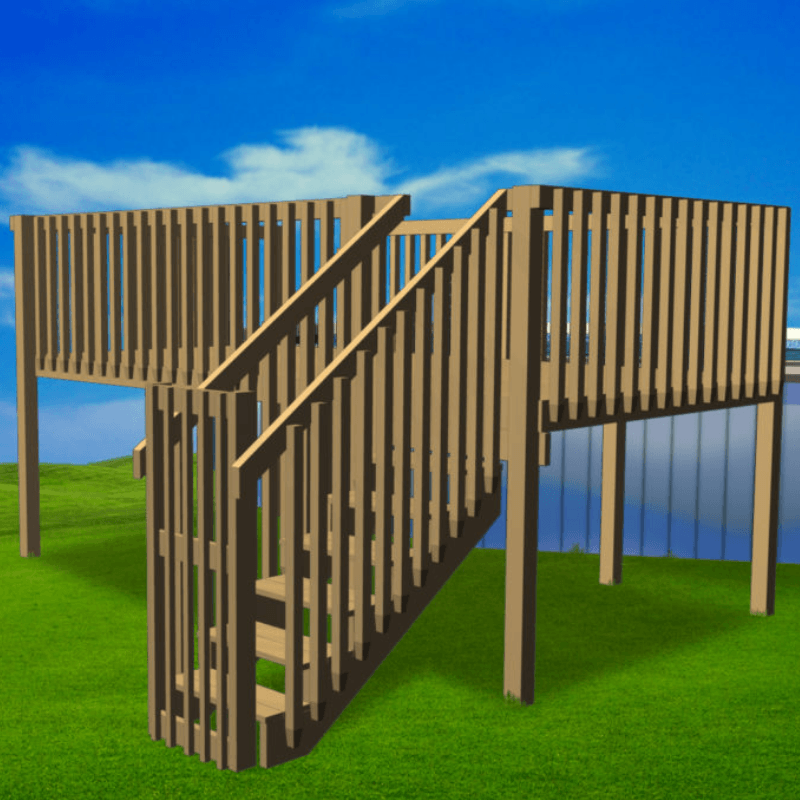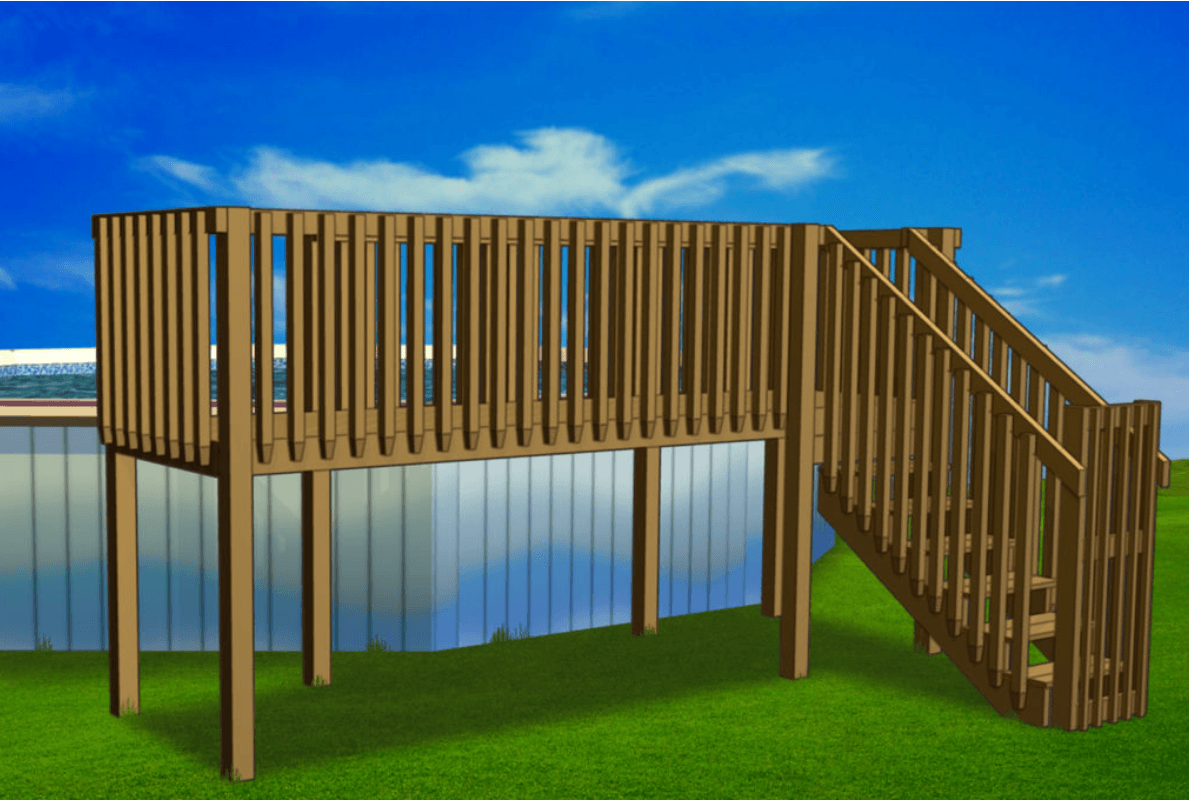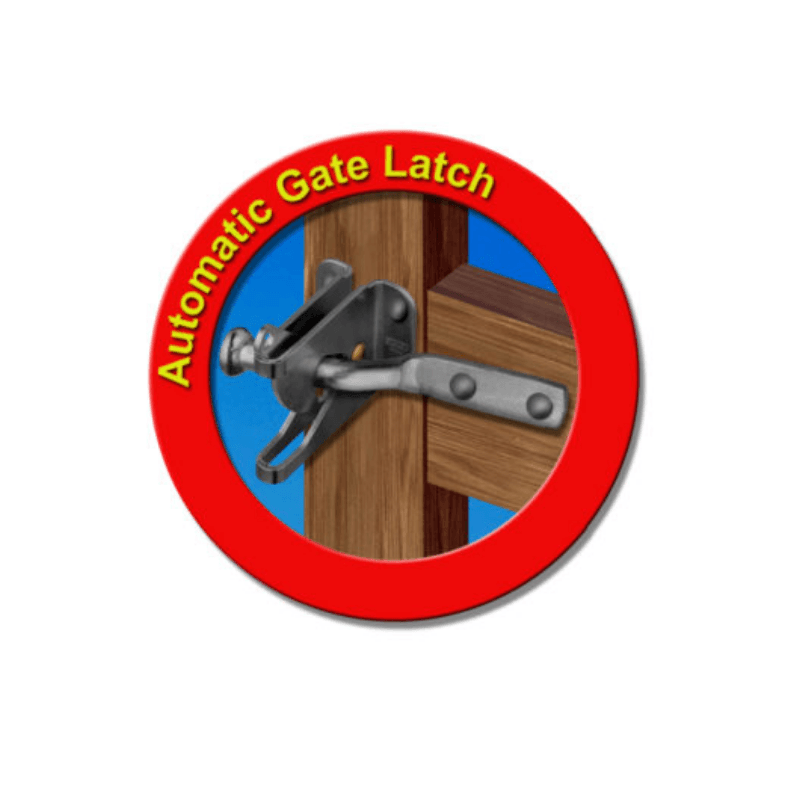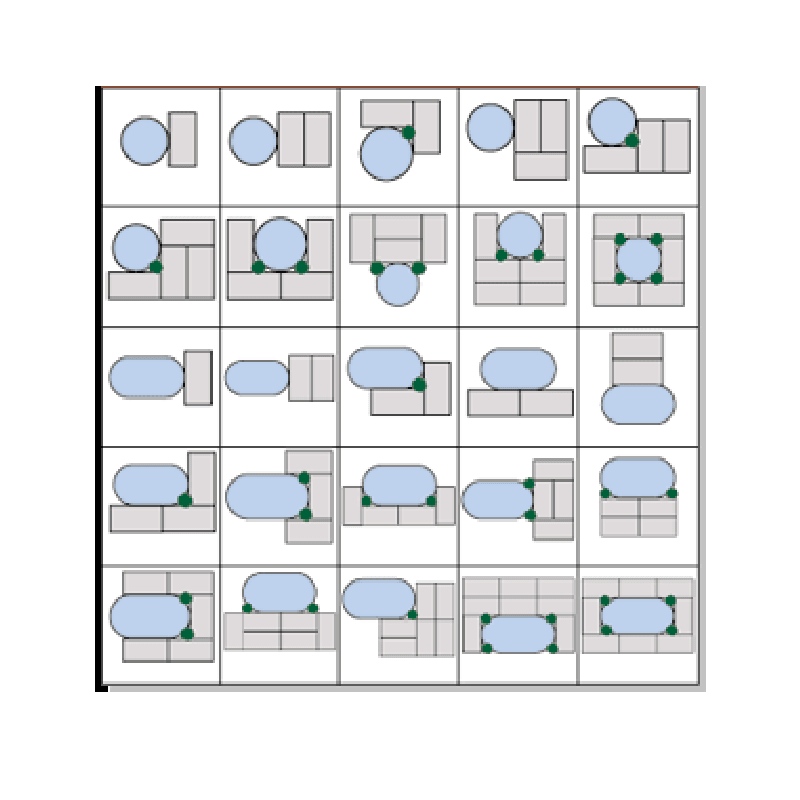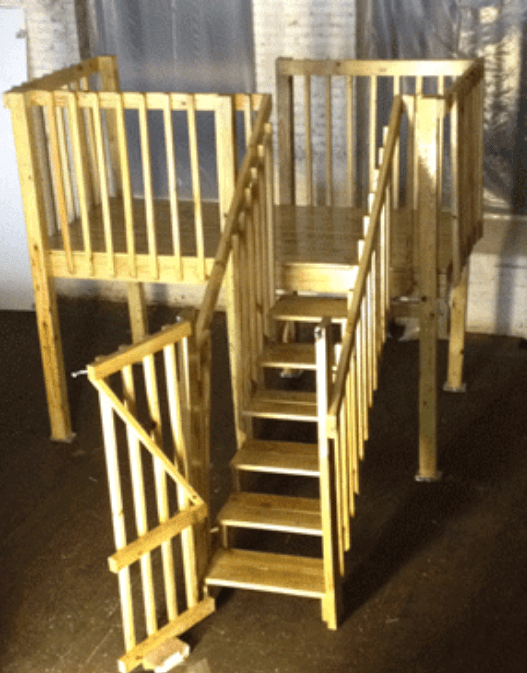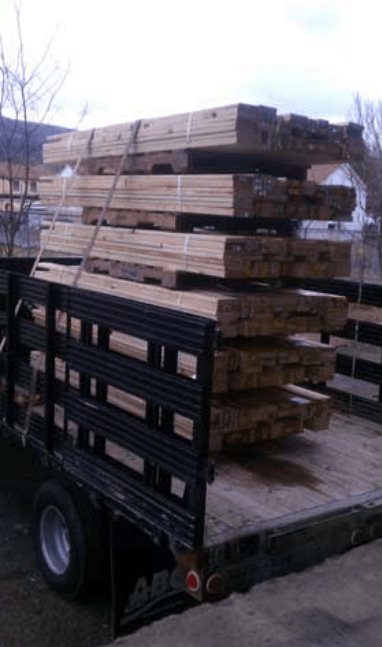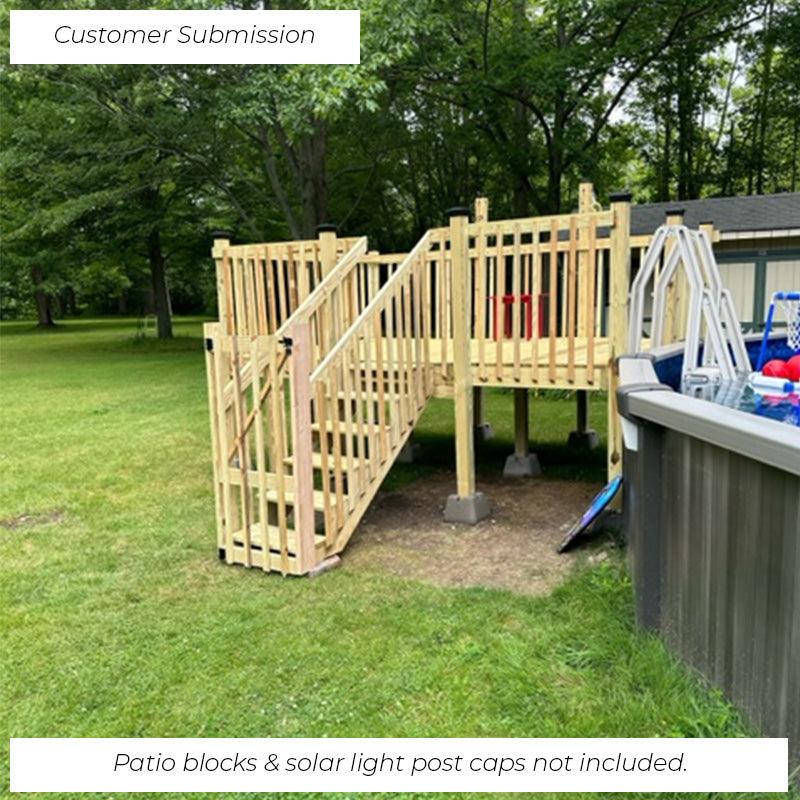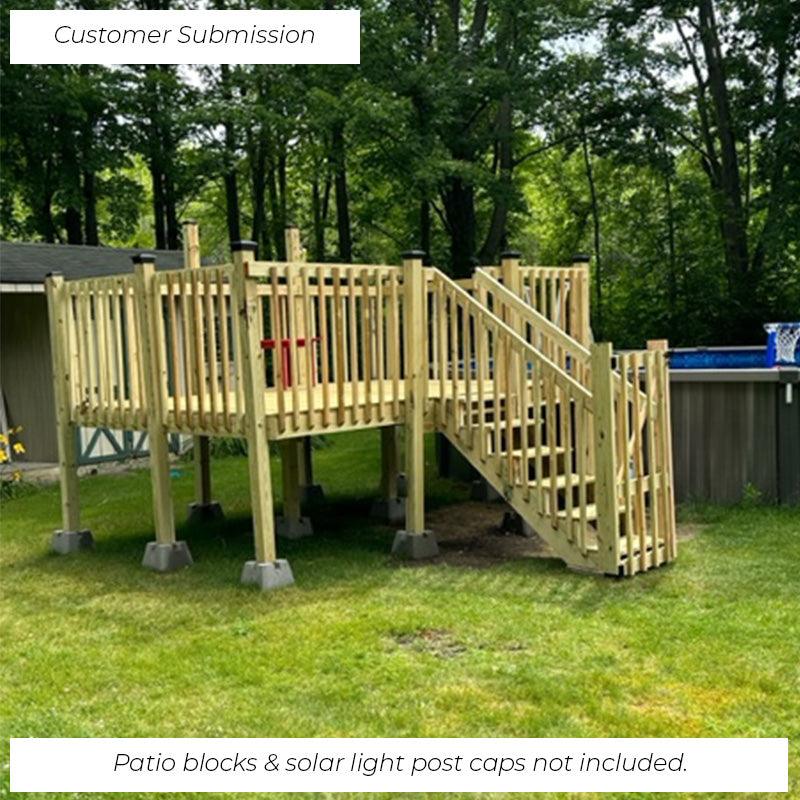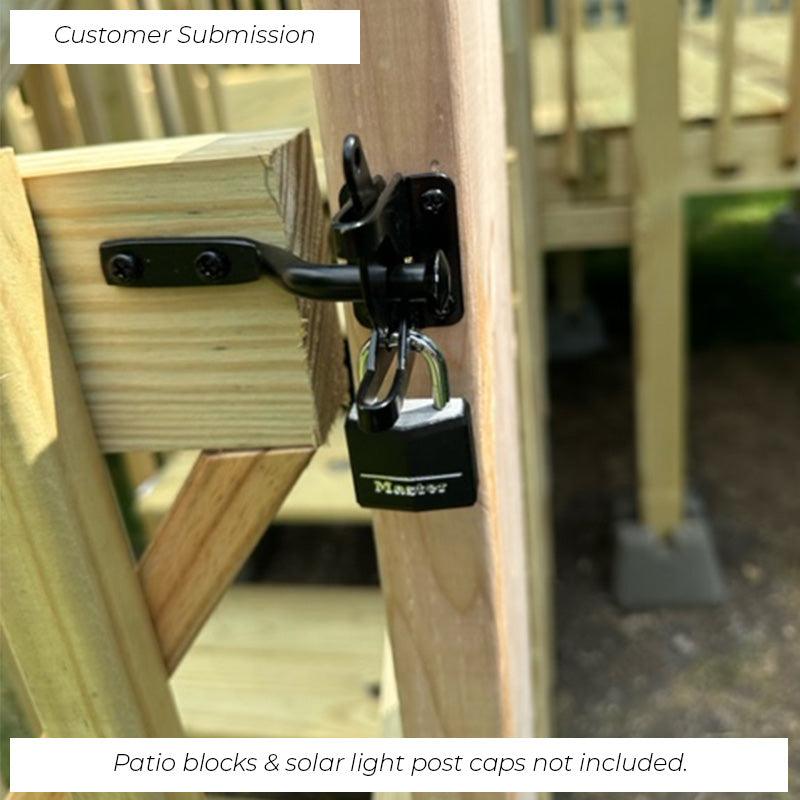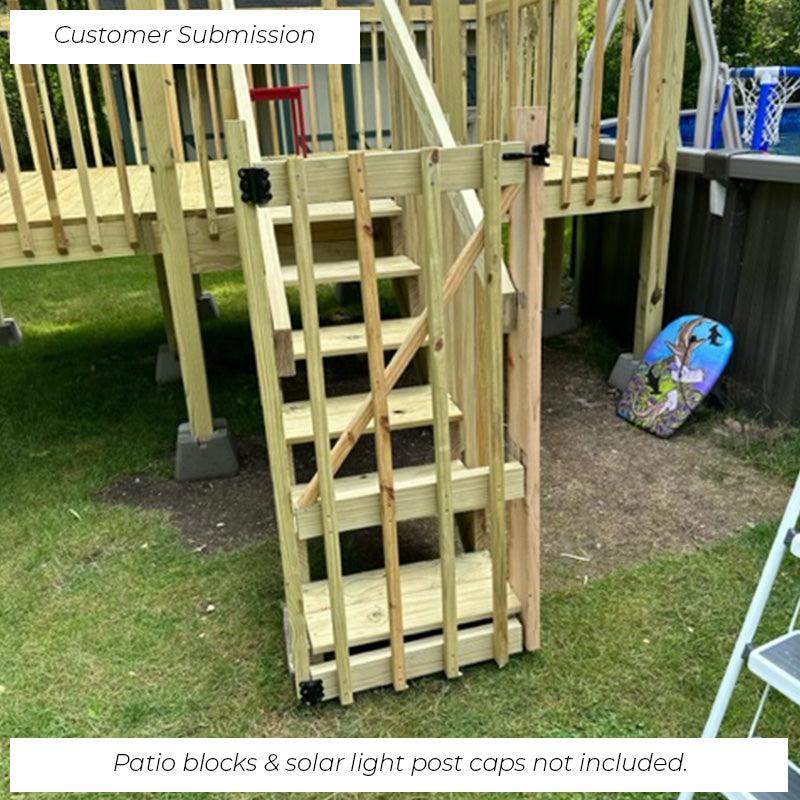 Connect-a-Deck Shipping Zones
Use the chart below to determine your zone and choose that option when adding to your cart.
ZONE 1
ZONE 2
ZONE 3

Connecticut

Delaware

Maine

Maryland

Massachusetts

New Hampshire

New Jersey

New York

Pennsylvania

Rhode Island

Vermont

Virginia

West Virginia

Alabama

Arkansas

Florida

Georgia

Illinois

Indiana

Iowa

Kentucky

Louisiana

Michigan

Minnesota

Mississippi

Missouri

North Carolina

Ohio

South Carolina

Tennessee

Texas

Wisconsin

Arizona

California

Colorado

Idaho

Kansas

Montana

Nebraska

Nevada

New Mexico

North Dakota

Oklahoma

Oregon

South Dakota

Utah

Washington

Wyoming